European Film Awards 2022 tutti i nominati
Triangle of sadness e Holy Spider guidano le nomination. 'Piccolo corpo' nominato nella categoria European Discovery - Prix Fipresci
"Triangle of Sadness", diretto da Ruben Östlund, e "Holy Spider", diretto da Ali Abbasi, guidano le nomination agli European Film Awards 2022 nelle categorie principali, insieme a "Close", diretto da Lukas Dhont.
Piccolo corpo nominato nella categoria European Discovery – Prix Fipresci
In lizza per il miglior regista sono Dhont per "Close", Marie Kreutzer per "Corsage", Jerzy Skolimowski per "EO", Abbasi per "Holy Spider", Alice Diop per "Saint Omer" e Östlund per "Triangle of Sadness".
Nominati come sceneggiatore europeo sono gli sceneggiatori di "Alcarràs" Carla Simón e Arnau Vilaró, Kenneth Branagh per "Belfast", Dhont e Angelo Tijssens per "Close", Abbasi e Afshin Kamran Bahrami per "Holy Spider" e Östlund per "Triangle of Sadness".
Le attrici europee candidate sono Vicky Krieps in "Corsage", Zar Amir Ebrahimi in "Holy Spider", Léa Seydoux in "One Fine Morning", Penélope Cruz per "Parallel Mothers" e Meltem Kaptan in "Rabiye Kurnaz Vs. George W. Bush".
La corsa agli attori europei è tra Paul Mescal in "Aftersun", Eden Dambrine in "Close", Elliott Crosset Hove in "Godland", Pierfrancesco Favino in "Nostalgia" e Zlatko Burić in "Triangle of Sadness".
I candidati ai documentari europei sono "A House Made of Splinters", "Girl Gang", "Mariupolis 2", "The Balcony Movie" e "The March on Rome".
I premi sono votati dai 4.400 membri della European Film Academy. La cerimonia di premiazione si svolgerà il 10 dicembre a Reykjavík, in Islanda.
Molti dei film nominati all'EFA sono anche le voci del loro paese ai prossimi Oscar, quindi le loro nomination possono aumentare le loro possibilità durante la stagione dei premi. Questi film sono "Corsage" (Austria), "Close" (Belgio), "Holy Spider" (Danimarca), "Saint Omer" (Francia), "Nostalgia" (Italia), "EO" (Polonia) e "Alcarràs" (Spagna).
L'European Discovery Award è conteso da "107 Mothers", "Love According to Dalva", "Other People", "Pamfir", "Small Body" e "Sonne". Una commissione composta da membri della federazione di critici FIPRESCI ed esperti nominati dalla European Film Academy seleziona il vincitore.
I vincitori degli Excellence Awards nelle categorie European Cinematography, Editing, Production Design, Costume Design, Make-up & Hair, Original Score, Sound and Visual Effects saranno determinati da una giuria di otto membri composta da rappresentanti delle diverse arti e mestieri e saranno annunciati il 23 novembre.
I vincitori dei premi European Lifetime Achievement, European Achievement in World Cinema e European Innovative Storytelling sono già stati annunciati e saranno premiati a Reykjavík.
European Film Awards 2022 i nominati
European Film:
• ALCARRÀS, directed by Carla Simón, produced by María Zamora, Stefan Schmitz, Tono Folguera & Giovanni Pompili (Spain/Italy)
• CLOSE, directed by Lukas Dhont, produced by Michiel Dhont, Dirk Impens, Michel Saint-Jean, Laurette Schillings, Arnold Heslenfeld, Frans van Gestel & Jacques-Henri Bronckart (Belgium/France/Netherlands)
• CORSAGE, directed by Marie Kreutzer, produced by Alexander Glehr, Johanna Scherz, Bernard Michaux, Jonas Dornbach, Janine Jackowski, Maren Ade & Jean-Christophe Reymond (Austria/Luxembourg/Germany/France)
• HOLY SPIDER, directed by Ali Abbasi, produced by Sol Bondy & Jacob Jarek (Denmark/Germany/Sweden/France)
• TRIANGLE OF SADNESS, directed by Ruben Östlund, produced by Erik Hemmendorff & Philippe Bober (Sweden/Germany/France/United Kingdom)
European Director:
• Lukas Dhont for CLOSE
• Marie Kreutzer for CORSAGE
• Jerzy Skolimowski for EO
• Ali Abbasi for HOLY SPIDER
• Alice Diop for SAINT OMER
• Ruben Östlund for TRIANGLE OF SADNESS
European Film Awards 2022 i nominati
European Actress:
• Vicky Krieps in CORSAGE
• Zar Amir Ebrahimi in HOLY SPIDER
• Léa Seydoux in ONE FINE MORNING
• Penélope Cruz in PARALLEL MOTHERS
• Meltem Kaptan in RABIYE KURNAZ VS. GEORGE W. BUSH
European Actor:

• Paul Mescal in AFTERSUN
• Eden Dambrine in CLOSE
• Elliott Crosset Hove in GODLAND
• Pierfrancesco Favino in NOSTALGIA
• Zlatko Burić in TRIANGLE OF SADNESS
European Screenwriter:

• Carla Simón & Arnau Vilaró for ALCARRÀS
• Kenneth Branagh for BELFAST
• Lukas Dhont & Angelo Tijssens for CLOSE
• Ali Abbasi & Afshin Kamran Bahrami for HOLY SPIDER
• Ruben Östlund for TRIANGLE OF SADNESS
European Documentary:
• A HOUSE MADE OF SPLINTERS, directed by Simon Lereng Wilmont (Denmark/Sweden/Finland/Ukraine)
• GIRL GANG, directed by Susanne Regina Meures (Switzerland)
• MARIUPOLIS 2, directed by Mantas Kvedaravičius (Lithuania/France/Germany)
• THE BALCONY MOVIE (FILM BALKONOWY), directed by Paweł Łoziński (Poland)
• THE MARCH ON ROME (MARCIA SU ROMA), directed by Mark Cousins (Italy)
European Discovery – Prix FIPRESCI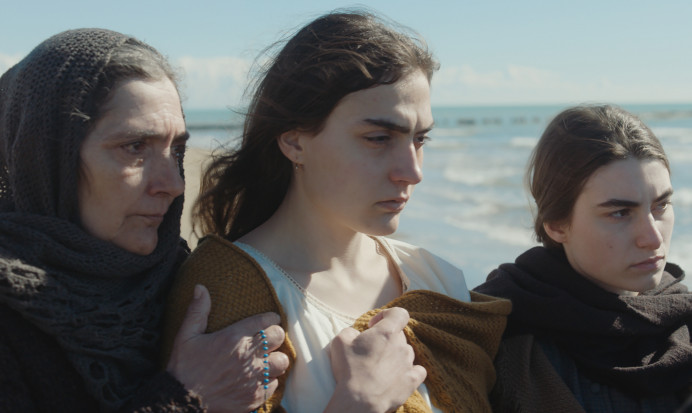 • 107 MOTHERS (CENZORKA), directed by Peter Kerekes (Slovakia/Czech Republic/Ukraine)
• LOVE ACCORDING TO DALVA (DALVA), directed by Emmanuelle Nicot (Belgium/France)
• OTHER PEOPLE (INNI LUDZIE), directed by Aleksandra Terpińska (Poland/France)
• PAMFIR, directed by Dmytro Sukholytkyy-Sobchuk (Ukraine/France/Poland/Germany/ Chile)
• SMALL BODY (PICCOLO CORPO), directed by Laura Samani (Italy/Slovenia/France)
• SONNE, directed by Kurdwin Ayub, produced by Ulrich Seidl (Austria)
Registrati per ricevere la nostra Newsletter con tutti gli aggiornamenti dall'industria del cinema e dell'audiovisivo.